Vision UVC disinfection is the exclusive distributor of the THOR UVC® robot and UVC nanoclave cabinet in South America and the Caribbean. We are based in Surinam and are a small company with a large vision for a safer healthcare in Surinam and the region.
Vision literary means eyesight, view, perceiving and is also a synonym for wavelength. We from Vision UVC disinfection have the vision to help change the way we work in the healthcare sector by offering an advanced technology for the disinfection of rooms and surfaces.
Our mission is to contribute to a cleaner and safer healthcare environment where hospital infections are prevented by the innovative UVC technology that is clinically proven to work and is cost-effective.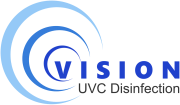 We are passionate about what we deliver,
and we always strive for the highest quality service.
For more information about the innovative UVC technology and/ or UVC products
mail to info@vision-uvc.com or call to +597 | 8910582.